Vehicles
We have some of the finest luxury vehicles in the state, below we have featured out most popular party buses which is the perfect size for most occasions and has the sleek black look that fits in at any event no matter how casual or formal. But you are likely more interested in the interior where you and your guests will be spending most of your time, we made sure to include all of the modern amenities you desire.
16 Passenger Party Bus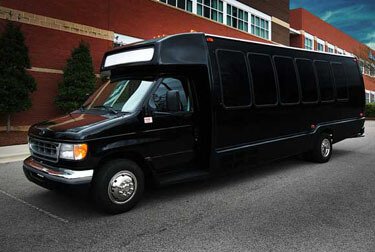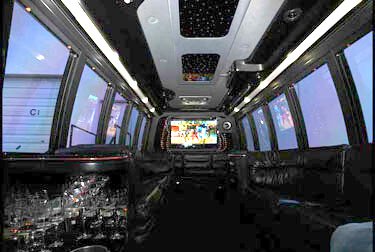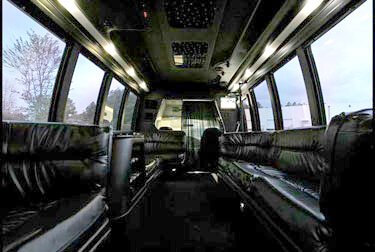 Vehicle Information
Our 16 passenger party bus has a 50" flat screen TV, an additional 15" flat screen TV. It has led and color changing fiber optic lighting. There is a mirrored ceiling. It has a loud sound system with 3 subwoofers, CD player, iPod hookup, and a DVD player. It has coolers with ice to put your drinks in and if you have luggage we have a storage compartment.
All of us at Party Bus Raleigh think you'll be thoroughly impressed with our vehicles. In fact, we know you will -- because all of our customers "ooh" and "aah" over the features that we have worked so painstakingly to provide. Our constant upgrades mean that the most modern amenities are always installed in each bus. From premium furnishings to high tech pieces for your entertainment, we've got it all. Let's talk about a few of those famous features right now.
Some of our buses have special features in addition to the ones listed on this page, but most of the ones that we talk about here will be featured in each and every bus in our fleet. The first feature that our customers usually gravitate towards is the HD flatscreen television, sometimes more than one in a bus! There's just something so luxurious about being able to watch television on the road, and not on a small portable screen either! Most of our buses feature 32" TVs, but the larger buses have multiple 50" sets. Now THAT'S entertainment!
When you're in motion you'll be able to use the DVD player for your entertainment, and we recommend bringing some of your favorite movies or perhaps some DVDs of your favorite music videos. When the bus is stopped you'll be able to take advantage of our HD antennas that pull in live broadcasts. Stop and watch the game, catch the news, or just see what's on!
The furnishings in our buses are the highest quality that we can obtain for you. The premium leather seating is both eye catching and comfortable, and since it wraps around the perimeter of the bus, it means that you and your friends can easily sit and chat without having to crane your neck like you would in a car or even in a limo! None of that cramped seating here -- just pure comfort! Often our buses feature dance poles or stripper poles, color changing walls and ceilings, and hardwood floors just perfect for dancing.
If you've a music lover, you'll definitely want to take advantage of our premium audio systems by bringing a stack of your favorite CDs, or perhaps that iPod that's loaded with your favorite playlists. You can play either one on our systems, and when you hear those tunes coming through our high quality speakers, you won't be able to resist the urge to get up and dance!
The built-in bars are also a nice touch, and since we provide ice and cups, all you've got to do is bring your favorite drinks. There are built-in cup holders throughout the bus too, to protect you from spills and from having to hang on to your drink all night.
As you can see, Party Bus Raleigh has worked tirelessly to provide you with all the best features, and this is just one of the many reasons that our customers recommend us so highly. Click the link below to continue to our pricing page where we'll tell you a few tips on how to save money when booking a party bus with us!